Resource
Innovative Artificial Intelligence Research Collaborative at UH Aims to Enhance Patient Safety and Care
UH Clinical Update | March 2023
The Department of Radiology at University Hospitals has partnered with the health system's innovation and commercialization engine, UH Ventures, to launch a new effort that leverages UH radiologists' research expertise in artificial intelligence applications. The new entity is already collaborating with start-ups worldwide to validate emerging AI radiology technologies, such as algorithms that promise to identify patient fractures or strokes.
The Radiology AI & Diagnostic Innovation Collaborative at UH – RadiCLE for short – is led by Leonardo Kayat Bittencourt, MD, PhD, Vice-Chair of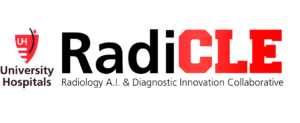 Innovation in the Department of Radiology. Dr. Bittencourt says the initiative has dual, complementary goals – to advance the science of teaching and clinical adoption of radiology AI, while simultaneously serving as a revenue stream for the department and UH through its collaborations with outside entities.
The infrastructure is in place to ensure both aims are met. Under Dr. Bittencourt's leadership, the collaborative employs two full-time employees, Traci Hollimon, Program Manager, who manages the "pipeline" of requests for research, validation, and co-development assistance from UH radiologists, and a data handler who will focus on curating high-value, complex imaging datasets. RadiCLE also works closely with UH Ventures to leverage existing infrastructure to perform preliminary due diligence on new opportunities and to track opportunities through the various stages of validation and development.
"Establishing a physical place inside the institution with the talent, infrastructure, and equipment will help UH establish the right processes and procedures to effectively engage and expose UH researchers and physicians to emerging technological advances of AI. And when you have the subject matter experts at the table with emerging technologies such as AI there is a greater promise the quality of healthcare will ultimately improve," says Kendra Gardiner, Director of Product Strategy at UH Ventures.
"We must remain at the forefront of technological advancements. RadiCLE's model promotes innovation and the seamless adoption of AI technologies," Dr. Kayat Bittencourt says. "The industry has quickly understood that quality data and, more importantly, quality people are the foundation for the success of any AI solution intended for health care. Ultimately, companies need to have inside experience with a healthcare partner. RadiCLE partners with companies by supplying de-identified patient data, conducting clinical studies, and providing the essential clinical expertise to understand the problem in question."
UH is Uniquely Positioned to Lead in AI
"UH is a robust organization with a large and diverse patient population, combined with significant AI research expertise in the Department of Radiology," he adds. "This combination makes UH uniquely qualified to play this vital research and technology-validating role. Additionally, we have built a RadiCLE Clinical Champions Council bringing together various clinical experts, including physicians, technicians, physicists, nurses, and students, across UH Radiology to provide insights and identify projects to help drive AI innovation. The spectrum of data we can collect and then offer to address different questions is very valuable, especially to the patients we serve."
Dr. Kayat Bittencourt says this data richness and being an academic center with researchers engaged in many different fields is exactly what companies seek when looking to develop AI solutions. And, UH also has a lot to gain from these new relationships.
"These companies come with teams of engineers and data scientists seeking a partner to test and/or build interesting solutions. These solutions hold the promise to impact our patient population positively. As a result of these collaborations, we have opportunities to conduct funded research while generating additional revenue to boost the department's activities and the overall health system. But, perhaps even more importantly, we know in the long run, we will provide a space and the people needed to support own caregivers who begin to generate their own ideas and begin innovating from inside the institution. "
The Collaborative in Action
One of the first projects initiated through RadiCLE was with the French company AZmed. AZmed had developed a tool called AI Rayvolve, which aimed to boost the speed and accuracy of fracture diagnosis and solve the problem of missed fractures. Navid Faraji, MD, Associate Program Director of the Radiology Residency and Clinical Champion in musculoskeletal imaging, served as the lead investigator on this initiative.
The process was comprehensive: To help validate the AZmed software, three UH board-certified musculoskeletal radiologists read and annotated fractures on 2,626 x-rays of UH patients'. These evaluations served as the "ground truth" for accessing the validity of AZmed's tool. Additionally, three groups of UH physicians identified fractures in 186 randomly selected cases, both with and without the aid of the AI tool. The readers included eight ED physicians, eight non-musculoskeletal radiologists, and eight musculoskeletal radiologists. The research team then compared differences in fracture detection and interpretation time with and without the AI tool.
Results showed that across all physicians in the study, review accuracy using the AZmed algorithm increased by 5.6 percent. Additionally, review and interpretation time decreased by 27 percent, proving the algorithm's efficacy. Interestingly, emergency physicians and non-musculoskeletal radiologists reported higher performance utilizing the new tool.
According to Dr. Kayat Bittencourt, results for inexperienced readers showed the algorithm improved their performance to a similar level of experienced readers. "This underscores the potential of AI to augment human ability instead of replacing it," he says. "It also reduced the time required to read the x-ray from opening to diagnosis, a potential gain for patients in terms of time to diagnosis."
These study results ultimately played a pivotal role in AZmed's securing clearance from the U.S. Food and Drug Administration for its AI Rayvolve. UH was the only healthcare system in the U.S. to collaborate with AZmed in testing its new technology. The company's reception at a recent radiology meeting was positive, with attendees showing great interest in AZmed's now-validated product. The recognition UH received as an enabling institution was also significant.
"UH is getting recognition as one of the few institutions capable of undertaking these validation and development projects," Dr. Kayat Bittencourt says.
New Ways to Benefit Patients
RadiCLE is also hard at work on several other projects. For example, RadiCLE joined Massachusetts General Hospital and other prestigious academic medical centers as a charter member of a consortium convened by the American College of Radiology to work on the validation of AI algorithms. The first project validated a stroke detection algorithm in both CT and MRI. Other projects include:
Improving detection of prostate cancer on MRIs;
Opportunistic screening of cardiovascular risk from routine x-ray-based imaging exams;
Devising a better way to identify lung nodules as a precursor to lung cancer.
Furthermore, Amit Gupta, MD, Radiology Division Chief of Cardiothoracic Imaging and an AI Clinical Champion, has been instrumental in procuring and vetting new AI technology, being already widely successful in several AI collaborations, including an algorithm fully implemented in clinical practice for automated detection of pneumothorax, a potentially life-threatening condition.
Dr. Kayat Bittencourt says he's excited about the potential of radiology AI to improve patient care – and the vital role this new collaborative at UH can play in making that happen. "AI will never obviate the need for radiologists or replace a doctor's care, expertise or human touch, but it can and will boost the quality of care."
"AI will augment our ability by increasing our combined diagnostic accuracy, increasing patient safety, and reducing burnout and stress by automating repetitive and low-value tasks. AI also holds the promise of improving the timeliness of discovery and reporting of findings on imaging exams – an added benefit to all the patients we serve."
For questions or to learn more about RadiCLE at University Hospitals, please email Traci Hollimon, Program Manager of RadiCLE, at Traci.hollimon@uhhospitals.org.